CBD Product of the Month: Coconut Salve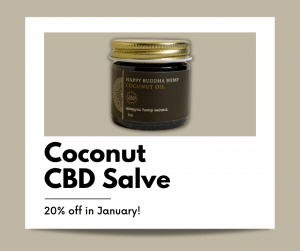 Did you know that on top of adding CBD to any massage session, we also offer a range of take-home products available for purchase?
This month, we are highlighting our Coconut CBD Salve.
Made with two simple ingredients – Organic Coconut Oil and Full Spectrum Spagyric CBD. This is one of Happy Buddha Hemp's most natural products and has several uses. It can be used for massage, as a multi-purpose moisturizer, internally, or as just a great natural CBD topical.
Coconut oil has a very low melting point, around 80 degrees, and will quickly melt in your hands. It is an oil, so a little goes a long way, and it provides a very deep penetration into your joints and problem areas.
The Full Spectrum Spagyric Extract is grown in Paonia, CO on 50 year pesticide-free farmland and is third party lab tested.
We carry the Coconut Salve in two sizes/strengths:
1oz 
250mg CBD
4oz 
 1000mg CBD
All Coconut Salve retail products are on sale for 20% off during January at Heaven & Health!