SALE: National Reflexology Awareness Week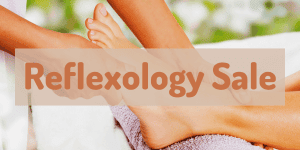 Save $5 on any 30-minute appointment ($42)
Monday September 20th marks the beginning of National Reflexology Awareness Week and to celebrate, we are offering a discount on our 30-minute reflexology sessions during the week!
Terms and Conditions:
*Special offer excludes regular massage and applies to reflexology services only.
*Discount will be applied at time of checkout.
*Cannot be combined with any other discount or gift certificate.
*Offer valid for appointments 9/20/21 through 9/25/21.